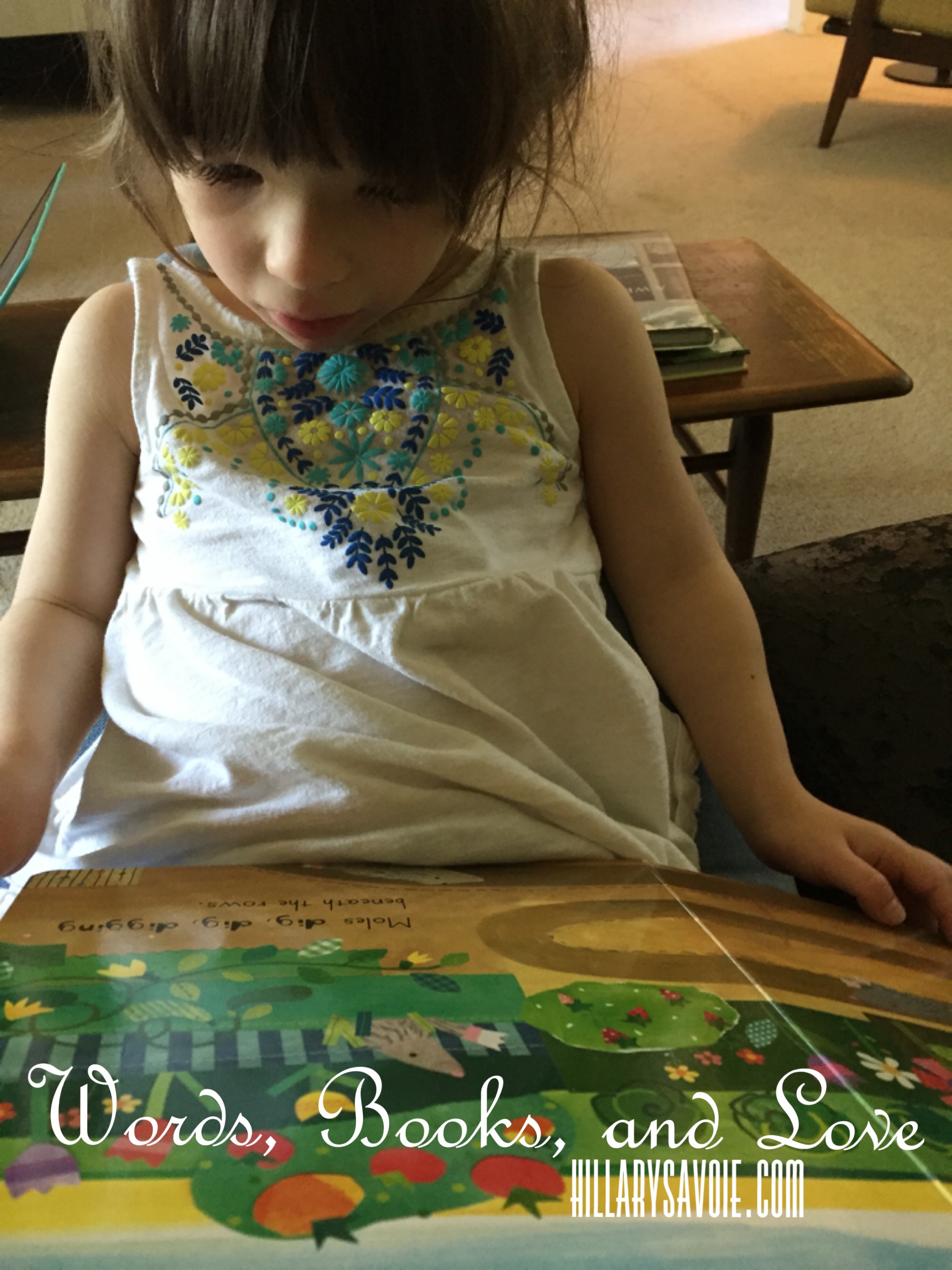 Lately it is becoming clear for that my daughter and I share a passion for reading, for words. I am always been a highly verbal person. I experience my world linguistically in many ways. I encounter the world through words. But I have a five-year-old daughter whose special needs and medical fragility leave her virtually silent. Reading with her has been limited in many ways…but I am learning, slowly, how to sync up our love for words and books.
***
She's fixating again. It's time to switch gears.
"Esmé," I say, "Maman wants to talk to you. Here, give my the bus. I'm turning it off, we can play with it again later." I say flipping the tiny switch on the underside of the bus and setting it on the ground away from her.
She whips her body around, looking for the bus, eagerly…almost franticly. If she's going to focus, we need to move. I reach out to her, saying, "Ok, Maman's going to lift you up."
A moment later we plop down on the couch together, we are side-by-side, but her feet rest on my lap. My left arm wraps around her back. "Esmé," I begin, producing two laminated cards with my right hand "do you want to take a bath?" I hold the cards in front of her. The first card says "YES" in green letters. The second card says "NO" in red letters.
She looks back and forth a couple times and then selects. No.
"Ok," I say, removing the cards for a second. "Do you want to read a book?"
Yes.
I glance at the stack of Esmé-approved board books next to me on the couch. She has hundreds of books but we read the same five or so on loop. "What about I Love You Stinky Face?" I ask, holding up the book, she reaches for it, excited. As we settle in to read the book through what I can only guess will be ten or so times, she, the designated page turner, opens up the book, and waits for me to read the first line.
***
Esmé sits on my lap in the rocker her bedroom. She is snuggled up in her pajamas, holding on to her favorite blanket. "Ez," I say, "tonight we are going to read a new book. It is a beautiful book. I'm very excited. It has paper pages, so I'm going to turn them, ok?"
I grab the large book at flip to the first page. The drawings are stunning. I begin reading.
By the end of the first page her body is twisting, each time I begin to read. By the fourth page she is writhing, her hands slamming the book, pushing it away, as she tries to slip off of my lap. I put the book down and lift her back up to my lap, "Ok, Where is the Green Sheep, then?" She leans back against me calmly, by way of consent.
***
When I was eight, my mother and I lived alone in a tiny apartment. It was cold.
The heater kept breaking.
I thought it was an adventure.
On the coldest nights we would climb in bed together and read, snuggled up, warming ourselves under piles of blankets that held our body heat underneath.
One evening we started A Wrinkle in Time. We read through most of it in one evening, pausing only to make giant cups hot chocolate on the stovetop from milk, cocoa powder, sugar, and just a pinch of salt (to bring out the chocolate flavor, mom explained). In the kitchen, in our sweaters and hats, shivering, we giggled.
Back upstairs in her four-poster bed—the bed that would be mine in high school, the bed that had been my great-grandmothers—we read and sipped from our mugs. My cat, Cosmo, curled up next to us. The time crept passed my bedtime, and still we read. We read until I was falling asleep over on her shoulder, and her eyes were heavy.
When she moved to set down the book, I mumbled, "No, mom, Keep reading,"
She said, "Ok, maybe just a bit more."
***
Esmé is crying. I'm balancing her body as she thrashes, her hand slapping at my face, grabbing my lip. Actual tears are spilling out of her eyes. I am squatting next to her, trying to get her to focus. My legs are going numb.
"Ezzy, Maman is going to tell you your favorite book, Who's in the Garden." I say, and begin the opening words of the book that I've memorized from years of repetition.
Immediately, she stops crying. Her eyes open up wider. She leans her face in so our noses touch. She watches my lips move, and the stares off distantly, eyes moving slowing back and forth, as if she is remembering the page for each line. Even the tear on her cheek holds still, waiting.
***
When Esmé was in the hospital after her cardiac arrest, uncertain whether she was going to survive I worried I'd never have the chance to read her A Wrinkle in Time on a cold night, snuggled in bed together. She was only three months old, and unconscious, intubated. Still, I bought the book on my phone and began reading it aloud to her.
At some point, reminded by the glimpses at a budding young romance between Meg and Calvin, I became obsessed with the question of whether Esmé would ever fall in love. I remembered those moments safely snuggled in bed with my mother, wondering what goofy, kind, smart boy would be the first boy I kissed—imagining the adventures my life would bring me on.
I found myself sobbing at Esmé bedside.
***
When she was a girl my mother used to read Edgar Allen Poe late at night in her room. It was not permitted, so she did so with a towel thrown over the lamp, so her parents wouldn't see the light under her door well passed her bedtime.
Once the towel caught on fire and she threw it out of her window and into the snow bank. Her mother, confused, found the burned and disintegrated towel the following spring.
I was always allowed to read as late as I could manage. I'd fall asleep, in my great-grandmother's four-poster bed, Cosmo purring, his long body stretched out along my side, open book on my chest.
***
The other night, Esmé in my arms, her body still small enough to curl up in my lap, her head resting in the crook of my arm. I said, "Esmé, I'm going to read us a book. There aren't any pictures. So I will hold it and read to you. Just lay back and listen. I think you will like it. It is about a boy who is very, very special. He is a wizard! With a magic wand! But we will begin before he knows he can do magic!"
And so we started ready Harry Potter. We have read a chapter a night for six nights. She sometimes wiggles to get comfortable in the beginning. But once we start, she lays back, eyes distant, imagining what I am reading to her, I think.
She smiles at the funny parts, much of the time. And she drifts off before the chapter is through.
But if I stop reading, her eyes flicker open as if to say, No, Maman, keep reading.
And I say, "Ok, maybe just a bit more."
This has been a Finish the Sentence Friday post. This week's sentence is "Back to school…"
Host: Kristi from Finding Ninee
I am also linking up from Kiss My List's Who I Am Linkup: