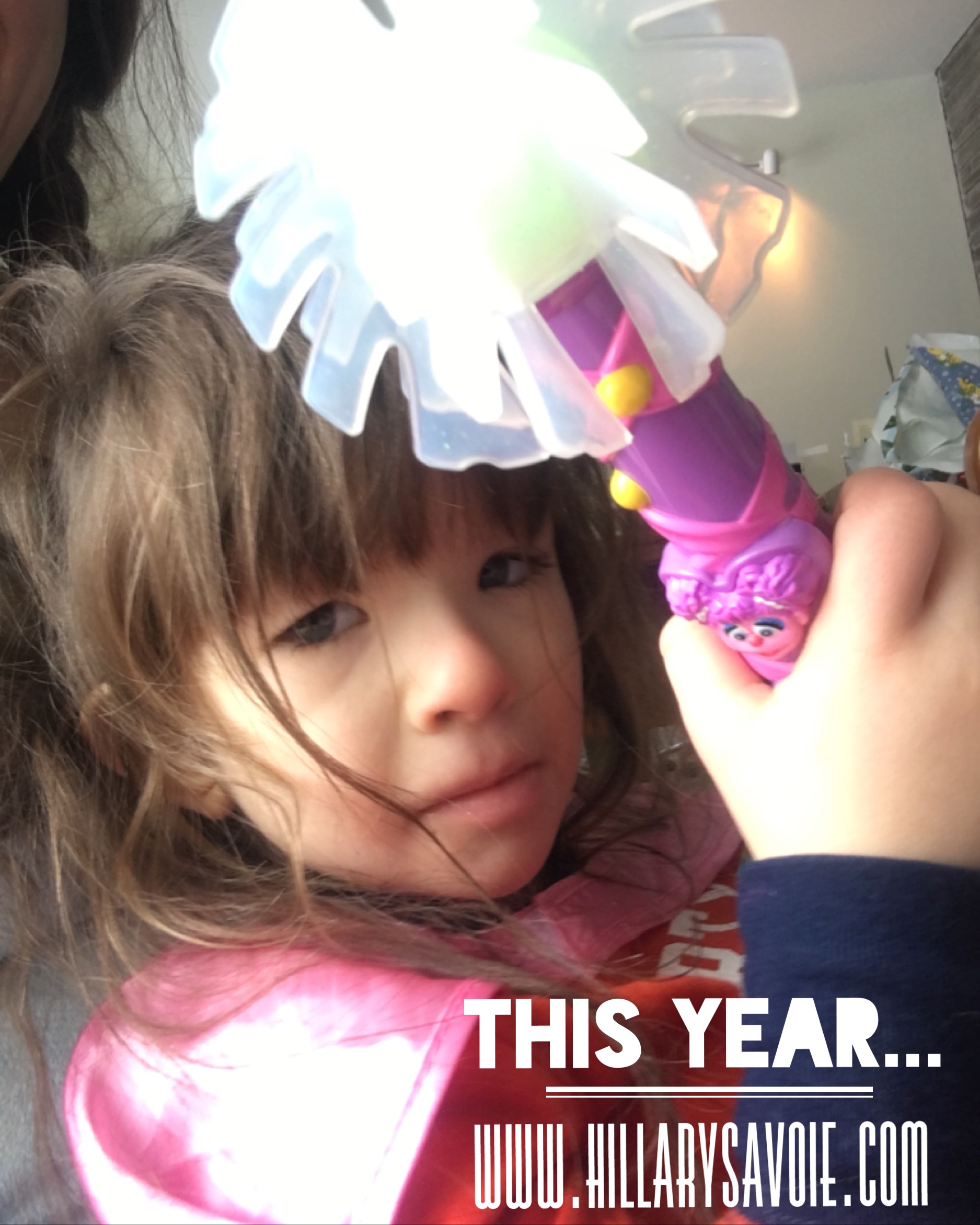 I hold up a pair of pants in front of Esmé. "Do you like these, Ez?"
She looks at them for a beat, places her hands on her wheels, turning just slightly away from me (and the pants), and pronounces, clear as a bell, "Ah, dunt." I don't.
Moments later, she repeats the scene with another pair of pants that, apparently, do not pass inspection. The items she likes she reaches for, pulling them close to her in a hug.
***
This year has been a difficult one. It seems to have marched to a beat of battles for healthcare, for surgical recovery, for mobility.
***
My mother, Mema, takes Esmé shopping for part of her Christmas present this year. Esmé has finally outgrown clothes at a pace that allows me to imagine that baffling experience of a child seemingly growing overnight.
Esmé wheels around the GAP, shaking her head "no," pulling items off of hangers, and rolling into tables to explore their contents. The pile of clothes over our arms grows…and Esmé seems to delight in the power she's commanding.
At one point Mema holds up a pair of blue pants covered in gold stars, asking if Esmé likes them. Esmé doesn't respond, so Mom moves to place them back on the table. Esmé focuses all of her attention and manages to pronounce, "Ah ike et." I like it.
I am across the store discussing sizes with the salesperson and miss the sound of my daughter asserting her tastes. My pride and excitement is tinged slightly with the sadness I feel at missing it. I want to rewind the day and be standing there with her as she throws her words around like a boss…and is understood.
Later, after we've checked out, I turn to Esmé who is about 10 feet away next to her caregiver.
"Esmé, Mema just bought you these beautiful clothes for your Christmas present. Let's thank her." I say this to Esmé, hoping she will at least look Mema in the eyes in acknowledgement. Instead she puts her hands on her wheels, backing up and turning slightly. My heart sinks for a moment, thinking she is about to go wheeling around the store demanding more…or trying to leave, haughtily.And, while I want my daughter to own her opinions and self-expression, I'm worried that in our excitement to encourage her self-expression we might have crossed that line into demanding and ungrateful territory.
But, happily, I underestimated her. She wheels backward to aim, and then shoots herself forward until she bumps into Mema's legs, and reaches for her, mindfully displaying her appreciation.
***
This year has been a brilliant one. Leap frogging from adventures speaking about the things that matter most to me, to writing an entire book in honor of the magic I see inside my daughter, to seeing her off to school for the first time.
***
The Friday before Christmas Esmé is not feeling well. The mycoplasma bacteria that overruns her tiny body each year at this time have drained all of the color from her face—save for the bright red tip of her nose. She is exhausted. Her head droops down as we exchange gifts with her caregiver, Nicole, before she heads out for the evening.
I place her gift from Nicole in front of her and ask, "Do you want to open this nice gift from Nicole before she leaves?" Esmé lifts her head up and then lets it fall down onto her arm, which is resting on the coffee table. I continue, "It would be nice to open it and say thank you…"
Esmé sits upright, lifts her head up, looks squarely at Nicole, and, her voice rising sweetly, says, "Ank euuu." Thank you.
Then she collapses back into her father's arms.
***
This year has been a haunting one. The ghosts of old wounds stalking me through the hospital stay, the frustrations of the living on the edge of Esmé's unknowns, the wincing reminders that no matter how far we've come we are still the family who "can't" so much.
***
The package from Abby Cadabby arrives several days before Christmas. We open it to find several wrapped presents. I show Esmé where I place them under the Christmas tree—stacked one on the other.
When the video message from her arrives on Christmas Eve, Esmé begin talking about Abby—insisting on something that we can't quite decipher. She chats about it through bedtime, excited in a way she has never been before for Christmas. I keep telling Esmé that Santa can't come until she sleeps…but I realize now that she knew the magic she was waiting for was already waiting for her under the Christmas tree.
Christmas morning Esmé sits in front of the tree. "What do you want to open first Esmé? This one? It's from Santa!" I ask, holding up a gift wrapped in Santa's red and gold wrapping paper. Esmé moves forward onto her hands and knees. She reaches her hand past the present from Santa until she can touch the Abby Cadabby present pile, tapping it. After each of the first two presents—an Abby cape and an Abby photo frame—Esmé goes back to the pile, tapping it. The last gift is an Abby doll with a talking magic wand.
Esmé, in her cape and wand, happily play for the rest of the morning.
***
This year has been a magical one. One filled with Muppets, the sound of my daughter's voice, and unexpected kindnesses.
I love participating in Finish the Sentence Friday (FTSF) with Finding Ninee. Each week on FTSF we receive a sentence to finish. This week the writing prompt was: This year…
Join the Facebook Group to start linking up with all of us! You never know what will happen… The first week I linked up I wrote something that I didn't even know I needed to write. It felt so raw and close to the bone that I wasn't certain I wanted to share it. But I did it anyway…and I am so happy I did.