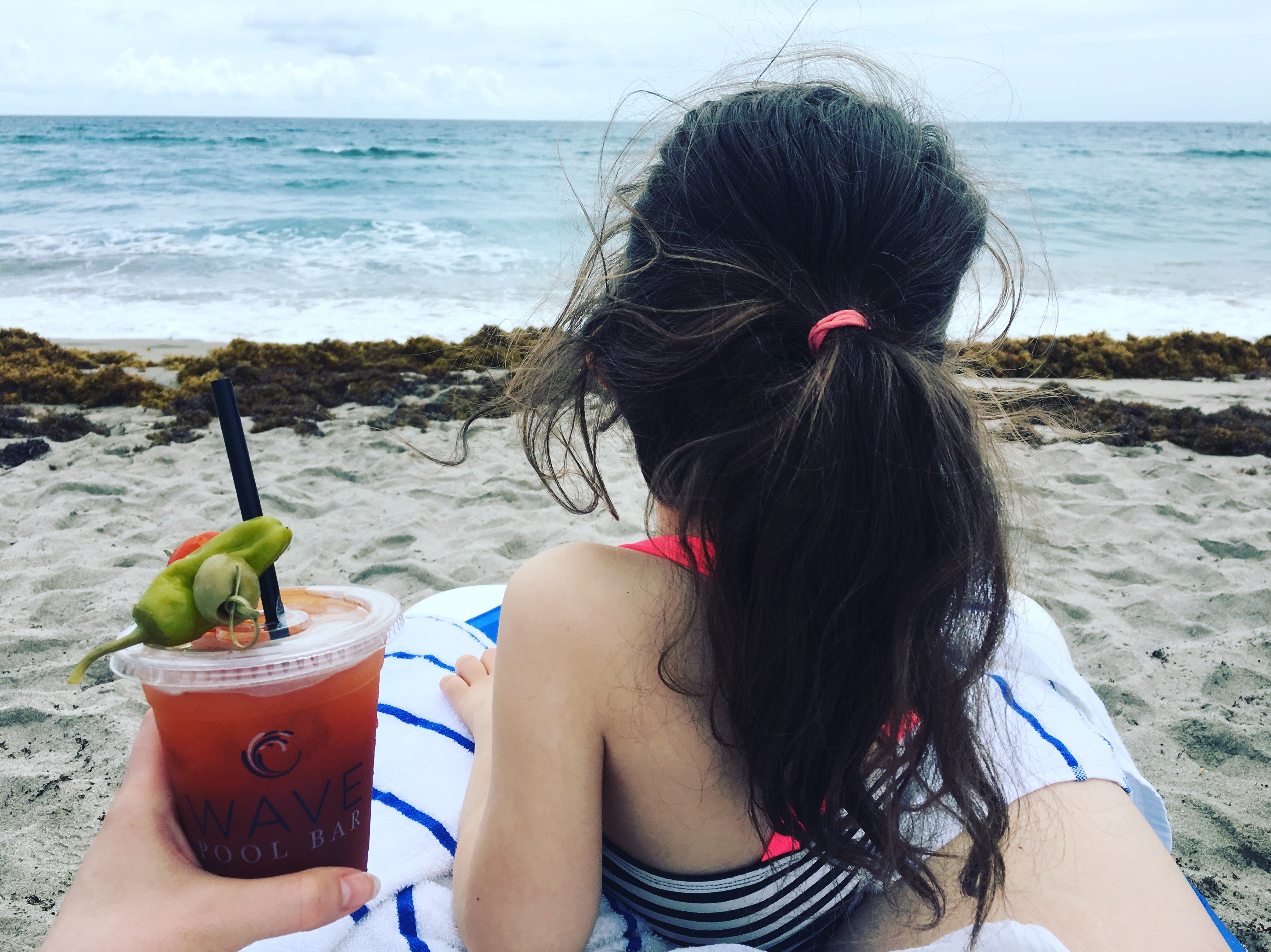 It has been ages since I have written here, or, really anywhere. The last four months feel like they had the air sucked out of them. Esmé has been sick with a series of mysterious daily fevers, coming-and-going full-body rash, and constant fatigue. No one seems to be able to unravel it all, but the result is that Esmé was out of school for more than 50 school days in a row. We've been in and out of doctor's offices at home and in Boston—infectious disease, cardiology, immunology, aerodigestive clinic, and so on. We've started new medications—daily antibiotics, temporary antibiotics, steroids, anti-histamines, special new eczema treatments.
All of it works a little. None of it works enough.
These months feel like a blur of conversations with doctors, long hours spent under my sleeping daughter, and the kind of bored anxiety that can only come after seemingly endless days spent on high alert without ever understanding what you are on alert for—maybe nothing at all.
At least, it was a blur like that until last week when, with the (tremendous) help of my parents, I took Esmé to Florida.
We Needed Some Sun
In the days before we decided it was a good idea to put Esmé on a plane to Florida, she wasn't getting significantly better. She did seem more stable, however. I felt like, as sad as it is to say, she was just getting used to feeling crumby. Her doctors had cleared to go back to school once flu season was over, despite the continued fevers. The tests had uncovered no evidence of a contagious disease. However, we knew she might not be able to fight off infection very well if exposed. She'd been back at school for a few days, coming home exhausted, but happy to be doing something other than sitting at home staring at me…
The weather in upstate New York this spring has been horrible. Snow has continued to appear well into April. In the absence of doctors or medications helping Esmé's health, I thought, perhaps, she'd get better with some sunshine. However, the sunshine just wasn't appearing.
And then my Aunt Sue gave us the perfect chance to chase some sunshine: An 80th birthday party in Florida.
How We Got to Florida…
My mom and step-father, Phil, were heading to Florida for the weekend to celebrate with our family. It seemed like a quick enough visit, with a short-ish direct flight. And we'd been talking about trying a flight with Esmé to see how she'd do.
So I went ahead and asked if we could crash their trip.
They were thrilled to have us crash. They are awesome grandparents and adventurous spirits and completely dedicated to seeing Esmé's horizons be as broad as possible. My mom quickly got excited about helping travel with Ez. Phil went to work making travel plans that would accommodate Esmé well. I started calling the airline and doctors for everything we'd need to travel with medications, wheelchair, and medical supplies. And Ezzy starting lecturing me on proper travel etiquette with Muppets.
Right up until the morning of the flight I was questioning whether or not we should actually go… Esmé was coughing more. I was worried what plane travel might do to her oxygen levels. I imagined three-and-a-half hours of her crying 30,000 feet in the air. Followed by two-days of fitful naps, sleepless nights, and ushering her out of situations.
But then, before I knew it, there we were at the airport.
Flying with A Complex Child
I worried over nothing: Ez was a total star on the plane. She giggle on the way up as her grandmother pretended to fly, arms outstretched, as we took off. Of course, she watched the Muppets Most Wanted twice through on her iPad while we flew.
My daughter didn't complain once the whole flight. Including the landing.
Then, even though it was well passed her bedtime, she kicked her feet happily as we navigated the crowed Ft. Lauderdale airport—as we learned that it really does take three adults to fly with Ezzy and all her necessities. Esmé found the free-for-all traffic at the arrivals pick up funny. She loved the amusingly large Yukon Phil rented after the first car wasn't going to fit Ezzy's wheelchair. And she didn't come undone even though we didn't make it to the hotel until 1100.
My mom helped us settle into our hotel room. Then Esmé curled up against my chest and slept straight through until the morning. When we woke up, we found warm air spilling into our room and this sunrise outside our door.
Life's a Beach
The last time Ez went to the beach, it did not work well. Ez panicked, had several breathholds and a couple seizures. It all ended a race to the car, which was parked a million miles away, and a blood pact that beaches were out of the question forever…and ever.
So, while I hoped that we might tentatively try beaching it again, I was happy to be so close to our hotel room, just in case anything went terribly wrong.
But nothing went terribly wrong.
Instead, when we went out to the beach, Esmé enjoyed having her feet in the sand while the waves lapped her legs. She loved the breeze coming up off the water. She giggled with her grandparents. And then she napped to the sound of the ocean. After her nap, she sat up and happily stared out across the water as if she couldn't believe it all.
Meanwhile, I drank a beach-friendly cocktail. As I watched my daughter, thinking about how small our lives have been, out of necessity…how small they will likely continue to be. And I realized that when there are moments to allow life with Ez to expand, we have to jump in, feet first…because they just might be this perfect.
Then I Tried to Miss Our Flight Home
Since the trip was short, we had time for a family lunch, another nap, a dip in the pool, and then the party. Ez was a complete joy at the party, rolling around with her older cousins and hanging out until late into the evening.
I know it was the kind of trip that for many other families might feel like a stressfully short interlude. There was almost more time in the plane than on the ground. This was nothing resembling a "typical" family vacation. But, this was a test. And as I've written about before, my sense of what constitutes a break is rather skewed, after years of thinking just not being in the hospital, or a quick working trip, or a single overnight a couple hours away constituted a spectacular vacation. I mean, I am the lady who traveled to Paris and back in three days and felt like she'd never come down from the joy.
Still, I started hoping our flight might just get canceled, and we'd have to stay for several more days. I felt like all I wanted were beach naps, sunshine, grandparent silliness, the sound of waves, and my beautiful girl.
The Happiest Moments…
The next morning we had a bit more time on the beach. My darling Phil was already making plans for how we can all get away to a beach together for a longer trip. Mom was running Ezzy into the salty breeze at the edge of the ocean. We all were getting good and sandy one last time before we had to pack up and go.
In my experience there are very few instances when you realize that some of the best moments of your life are happening. So often it seems like afterward you look back and think: "Oh, laying in bed after that sleepless night with my newborn resting on me. I was so exhausted, but now I'd do anything to get back there." Or: "That time I was a grumpy kid and my dad embarrassed me into laughing at one of his stupid jokes. That was the best." Or "Being able to climb into my grandmother's lap in her kitchen made the world feel safe."
We Can Do This
But Sunday morning, on the beach, watching my daughter with her grandparents after such a successful adventure, I was so aware of it: This is one of the best moments of my life. I will never, ever forget it. The way I feel, the way the air smells, the feeling of the sand on my feet, the sound of the waves…the sight of my mother and my daughter at the edge of the world with their arms wide open.
We can do this. We absolutely can.
This has been a Finish the Sentence Friday post. I love participating in Finish the Sentence Friday (FTSF) with Finding Ninee and Sporadically Yours. Each week on FTSF we receive a sentence to finish. 
Join the Facebook Group to start linking up with all of us! You never know what will happen… The first week I linked up I wrote something that I didn't even know I needed to write. It felt so raw and close to the bone that I wasn't certain I wanted to share it. But I did it anyway…and I am so happy I did.